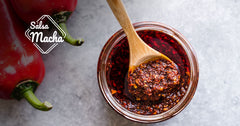 In Mexico there are more than 200 varieties of traditional sauces, and even more if you take into account that in each home they are cooked in different ways, but among so many sauces, there is one that does not fail when it comes to accompanying any saucer; macha sauce.
Although the origin of this sauce is disputed by the states of Oaxaca and Veracruz, it is better known as a Veracruz sauce, although both states use the same base, a mixture of chili peppers and seeds roasted or browned with vegetable oil.
Macha sauce and its variations
The traditional recipe from Veracruz must contain morita chili, compapeño chili and tabaquero chili, as well as sesame , a lot of garlic, allspice and peanut, although the Macha sauce that is commonly prepared in Orizaba, Veracruz is much simpler, since it only contains dried serrano pepper, vegetable oil and salt.
In Michoacán, for example, it is prepared with tree chili, also known as rat tail chili, plenty of garlic, vegetable oil and sea salt; tomato and green tomato are sometimes also added to this recipe, although these ingredients reduce the spiciness of the sauce.
.