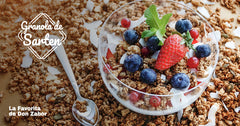 One of the most versatile and delicious prepared foods is granola; Although in its commercial versions we usually find it very processed and with excess sugars, in its homemade form it can become an ally when looking for a healthy and quick breakfast. We share a homemade granola recipe that will get you out of trouble when you have no idea what to have for breakfast.
Normally homemade granola is prepared in the oven for half an hour or more, but this version is much easier and cheaper to prepare because it is in the pan and it only takes 10 minutes or less to cook. Do you want to know how to prepare it? Keep reading!
This is actually more of a guide than a recipe as it really is that easy to make and you can add or take away stuff as you see fit, so we'll walk you through the steps so you have a foundation to start with.
The benefits of granola
First things first: why eat granola? Not only is it rich in fiber, which makes our digestion improve, but it also has vitamins and minerals to strengthen your immune system, which, as we all know, needs extra protection now more than ever.
Also, it has healthy fats, which in addition to providing the energy you need daily, help reduce your cholesterol levels and walnuts have such great benefits as stimulating your brain functions, helping to develop memory and in the production of serotonin, making us happier people.
It's also a good option for a snack or even breakfast as it keeps us full, so it's a great weight management aid.
Where does granola come from?
Originally, its name was granula, and it was the brainchild of dr. James Caleb Jackson, who believed that illnesses were rooted in the stomach and experimented with cold cereals, as explained in this article. Dr. Jackson baked graham flour (unsifted wheat flour) into brittle cakes, which he then chopped and baked
again. It was not an immediate success; in fact, it was only edible when soaked in milk overnight.
Still, Jackson's granula had competition from Dr. John Harvey Kellogg, who was also a digestive evangelist, and in the late 1870s or early 1980s, Kellogg blended flour of wheat, oatmeal and corn flour in a mixture also called granula.
Jackson sued Kellogg so Kellogg changed the "u" to an "o" and by 1889, he was selling up to two tons of granola a week. Kellogg went on to invent cornflakes, which led to Kellogg's cereal empire, which later spawned Froot Loops and Choco Krispies, among others.
Granola on the stove
Now comes the good stuff. We suggest you have all the ingredients ready at your table, bar or wherever you normally cook your food to make preparation easier. Chefs call this Mise en Place, which means "putting in place."
Let's start with the granola!
Ingredients
Preparation
In a skillet over medium heat, heat the coconut oil and add the oats, stirring for two to three minutes

Add the rest of the ingredients and stir well.

Turning down to low heat, add the maple syrup last and stir until you have a uniform mixture.

Once the maple syrup has been absorbed by the dry ingredients, you can remove it from the heat.

Wait for it to cool down and store in a well-sealed container to keep the granola crunchy.
Tips:
➢ You can add your favorite ingredients to customise your granola, such as shredded coconut, peanut, raisins, vanilla, pepitas, dehydrated fruits, even chocolate chips.
➢Don't leave your granola on the fire unattended! If the ingredients are burned, the taste can change completely and even turn bitter.
➢If using chocolate chips, add them to your preparation until they are at room temperature as adding them while hot or warm can melt them and change the texture.
➢ You can include wet ingredients like peanut butter or almond butter, and we'll share other recipes so you know how to use them correctly.
➢The famous "super foods" are also an excellent option to give your granola an extra healthy boost, such as chia, goji berries, acai berries, cashews, etc.
➢To accompany your granola, you can add yoghurt, chopped tropical fruits, red fruits or frozen fruit, almond or soy milk, agave syrup, serve it as a topping in parfaits, smoothies bowls, among many other options.
➢You can cook your granola without coconut oil for an even healthier option.
Did you like this recipe? Leave us your opinion on our social networks, and do not hesitate to send us a message if you have questions or need help finding your ingredients, although you can start with the excellent quality ones from Don Zabor that you can find in Walmart, Superama, Bodega Aurrera, H-E-B, laComer, CityClub, Alsuper and in your nearest store.
.