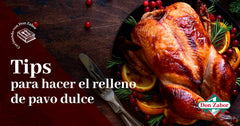 We know that you already have everything ready to prepare your traditional Christmas turkey, but do you already have the stuffing in mind? If you ever thought of the idea or need inspiration for this great Christmas challenge, we have come to the rescue!
This tradition of stuffed with sweet turkey, has been used for many years by our grandmothers and mothers, in Mexico and Latin America. Ingredients that contrast the sweet with the salty are normally used to make an interesting mixture and to accompany the serving of the turkey at the table.
It is also important that you know that the filling is a step in the preparation of your dinner that you can do separately, it is not so necessary that it be done at the same time , and you should consider that if it is for more people, the full amount does not go all inside the turkey and save a little apart from your Christmas turkey stuffing. That way you make sure it's cooked and the turkey doesn't get too full.
Now let's go with the ingredients to stuff the turkey that you should consider:
Ground Beef
Apple peeled and cut into cubes

White wine

Prunes

Butter

Salt

Pepper

Chopped onion

Cinnamon powder

Chicken broth
You must take these ingredients into account, although they may vary a bit depending on your tastes and preferences in the kitchen. The quantities also vary, depending on the number of guests you have or those who can taste this complement.
And for the preparation, take into account the following tips:
You will first need to fry the onion and then the ground beef in butter or oil until nicely browned.

At that time, add the other ingredients such as nuts, prunes, raisins, apple (or the fruit of your choice), almonds, salt and pepper.

Always check that the flame is low, so that the ingredients can be well integrated without burning.

If you're not a fan of ground beef, you can make the same preparation just by removing the meat. You can also use bacon, ham, chorizo ​​or any other sausage of your choice.

Add cinnamon to the mix at the end, for a sweeter, richer flavor.

Sweet wine helps enhance the flavor, but if you don't have it on hand, you can use sugar or piloncillo.
These are just some of the general considerations that you should take into account to know how to prepare the turkey stuffing, and so everything goes perfectly in these such special dates.
We recommend you plan your dinner in advance to measure your times and also to know the help you need in the kitchen because it is also about enjoying and spending more time with your family.
When you put together your list of ingredients, take a walk around the supermarket and look for the Don Zabor products to get the best quality in your cymbals, thanks for reading!