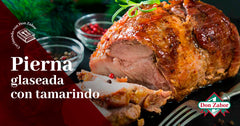 Another dish that cannot be missing from your table at these New Year's Eve dinners is pork loin or leg. We know that sometimes over the years it can become a bit monotonous and difficult to innovate the way of preparing it, that's why we bring you a recipe with a very special touch that will give a creative and fun touch to the night.
And yes, we are talking about tamarind, this ingredient mixed with some chiles will make the baked pork leg richer and impress the palates of your guests. Do not lose more time! Let's go straight to the preparation of the tamarind sauce:
Ingredients:
1 cup of

Don Zabor tamarind

2 garlic

½ onion

1 tablespoon of white vinegar

¾ cup of sugar

2 Kilos of pork leg

Ground black pepper

Ground nutmeg

1/4 cup of lard

2 tablespoons of salt with onion powder

1/2 tablespoon ground cinnamon

Powdered chicken bouillon

2 cups of water

1 tablespoon of fine herbs

Oil
Preparation:
First we will prepare the tamarind, you will have to clean it, remove the seeds and the shell. After it is ready, put a pot with 2 cups of water on the stove over medium heat and let it boil.

Add the tamarind, 2 cloves of garlic and the sugar to the hot water. Mix well until the tamarind softens and remove from the heat to let cool.

Let the chiles rest for a few minutes in hot water so they are not dry, remember to remove the seeds and veins.

In the blender you must mix the chiles, the tamarind (with sugar and garlic) and vinegar.

Fry the sauce in a frying pan, add 1 cup of water and powdered chicken broth to taste, along with the pepper, salt and fine herbs that you think are necessary to give it flavor. It should be a thick mixture.

Preheat the oven to 180º C. Meanwhile, place the

Christmas leg

in an ovenproof dish, season with pepper and salt.

Now cover it with the sauce we prepared and cover it with aluminum foil before putting it in the oven.

Bake for approximately 2 hours, checking from time to time so that it does not burn and so that you bathe the leg with the sauce every 30 minutes and it integrates very well.

Serve the leg in slices bathed in the sauce and aside the garnishes. Done!
So you can prepare a juicy baked pork leg! This main dish can be accompanied with the side dishes that you like, although it goes very well with a rich mashed potato or a green salad.
We hope you liked our preparation and have more ideas for your Christmas dishes. Don't forget that Don Zabor products can be found at Walmart, H-E-B, laComer, CityClub and Alsuper.