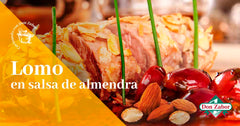 Another dish that is considered the main dinner in many Mexican homes at the end of the year is beef tenderloin. And boy, there are endless ways to prepare it, from stuffing, in sauces or even with beer, everything you can imagine has been mixed and improved for cooking.
But this time we want to impress you and we have selected a way of cooking beef tenderloin in sauce but with a slightly sweeter and more special style, since the most important ingredient will be: the almonds.
So take note because we have a delicious recipe for you: almond sauce.
Ingredients:
100 grams of

Don Zabor almonds
1 onion

2 1/2 cloves of garlic

550 grams of beef tenderloin

100 ml of milk

Olive oil

1 glass of cognac

Salt

Pepper

1 bay leaf
Preparation:
The first step is to fry the almonds and garlic in olive oil until they turn golden brown. Take good care of them because it is important that they do not go too far.

Remove from the heat when they are done and let them cool for a few minutes.

Now, in the blender you must add the milk, almonds, cognac and garlic. Then, prepare a pan with oil and fry the onion and bay leaf, add the mixture from the blender and wait for the alcohol to evaporate a little.

Start seasoning the tenderloin with salt and pepper to taste. Preheat the oven to 200º C and put the loin in for about 1 hour or more.

As soon as it is ready, serve in slices and cover them with the almond sauce, you can give it a final touch of decoration with sliced ​​almonds. Done!
In this recipe it is important to check that the beef tenderloin is well cooked before serving and let it cool a few minutes beforehand. Some change the cognac for white wine in its preparation but with any option it remains: DELICIOUS!
You can also prepare this recipe with the loin from the beginning made into fillets, you just have to fry them and cover them with the sauce, check that they are well browned so that they taste much better.
This meat in almond sauce is an alternative to sweet sauces, since it does not contain any chili, making it the best option for those who They don't eat chili in the Christmas season.
You can accompany this recipe with a cold soup, mashed potatoes, green salads or with a delicious spaghetti.
Don't miss the opportunity to try new flavors this season and take advantage of your visit to the supermarket to get the best ingredients with Don Zabor .